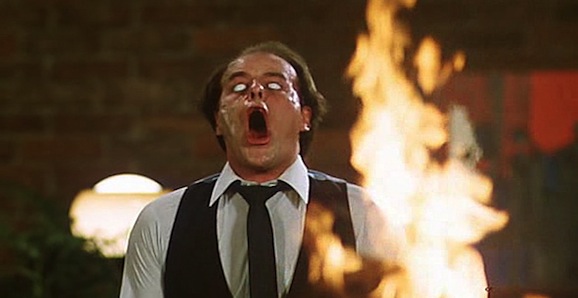 It is a fact, at least to people who know me, that I have a liking for many things. I very often start new hobbies, buy all the kit, and after a week or two I put it all away and never use it again. Among my friends, this is referred to as shiny stuff syndrome. I get all worked up about the latest thing and then drop it as soon as the next shiny thing comes along.
But it's not that I'm getting bored of the latest thing, it's that I'm getting distracted by something new. The kit and caboodle of the last thing isn't dumped as much as it's put to one side ready for me to come back to. Sadly, I usually get distracted again and the latest thing goes on a pile with the last thing while I get on with learning about the new thing.
And so it goes on until I have such a pile of things that I totally plan on going back to that I can't move round the house properly and have to tidy up.  Now that I think about it, that might be the only time I do actually tidy up.
Friends think I'm a bit flaky and try to warn me off jumping into something new that is going to cost me more money. I just want to get right in there and learn everything I can about making and editing videos or podcasts or clay models or games programming or magic or boardgames or languages or natural history or cartooning or watercolours or helicopter flying or angling or fly tying or retro gaming or baking or everything.
You can see the problem.
Imagine then my surprise when I came across an article that talked about people like me and referred to us as scanners.
The only Scanners I'd heard of before this were from the film, Scanners. Sadly I have not developed a Michael Ironside ability to assplode people's heads with the power of my mind. The kind of Scanners who are like me are so called because we're always scanning the horizon for the next interesting thing.
The name comes from Barbara Sher who wrote Refuse To Choose, a book all about Scanners and full of ways to understand and cope with what can be a very frustrating personality type. Good for those of us who are Scanners and those who might know a Scanner. I've been learning loads just lately and it feels great to be reading other people's stories and shouting, I DO THAT TOO!
Awesome.
Curiously, I found that now I know what I'm dealing with, I've already got a few coping mechanisms of my own that I've created without realising. In fact, my ability to get in and learn enough about a given subject that I can appear to know more than I really do comes in really handy for a writer. Creating articles for clients in subjects outside of my normal knowledge base is something I'm more than capable of doing. The problem is, I only want to learn about things that interest me and not someone else. Furthermore, as a Scanner, once I've learned all I want to learn, I'm out and off onto the next new thing.
See? Shiny Stuff Syndrome strikes again.
My latest plan is trying to decide if I should do a Scanner's blog. I have no idea what I'd put in it. It could be just a place to write about the latest thing I'm interested in but that would get a bit
weird and feel like there was no cohesion. Maybe I could mix those things in with some articles on scanner coping strategy. But then there's the danger of just ripping off Barbara Sher's book. It could be an online version of my Scanners Daybook or Codex. This is an exercise from Refuse To Choose where you're encouraged to keep a journal where you write about the things that interest you and work through your whys and hows as well as doing the exercises Barbara gives you. It's supposed to be a bit like Leonardo da Vinci's notebooks but mine's already turning into more of an art journal which is no bad thing. It still gives me a place to write about the fleeting interest that come my way and I can be as creative as I like with the pages. In my mind, I'm Leonardo da Vinci but the reality is somewhat different.
But I'm having fun and it's great to have a better idea of what's going on in my head.
If you think you might be a Scanner or would just like to know more, I recommend you get hold of Refuse to Choose. Amazon only have secondhand copies, but Wordery might still have a few new ones available. You can also check out Book Depository. And feel free to let me know if you'd like to see more of this in a specialist blog. It might help me ot decide if it's worth doing.
Also be sure to check out that Annette's site. She also  recently discovered she's a scanner and is going mad doing ALL THE THINGS!! 🙂
Send to Kindle