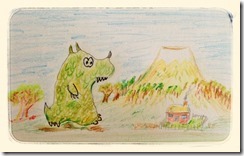 There's a lot of talk about self promotion on Twitter right now. It's all down to an article in The Guardian about one Mohsin Hamid who has been branded a monster for his particularly vehement style of getting his name out there.
What's he doing? Well from what I can gather, he has been tweeting quotes from glowing reviews of his book along with re-tweeting any praise that his followers send his way. This appears to have sent people into a frenzy about self promotion and the use of Twitter. A frenzy which I feel it is now my turn to address.
Twitter is a great tool for communication. It's made for communication. You can communicate in a variety of ways and there's always someone to communicate with. Self promotion is just another form of communication. In fact many people seem to agree with Mr Hamid and think there's nothing wrong with using Twitter as a personal advertising platform.
For the record, I agree. I don't think there is a problem with self promotion. Promote away.
However, if you think Twitter is there just for you to advertise yourself or your product, you're dead wrong. And if you use Twitter for self promotion and nothing else, you're a dick.
And that's the thing I think people are missing. Many of the responses to the Guardian piece seem to be defending self promotion without actually thinking it through. Nobody said self promotion is a bad thing, but honestly, if the only thing you ever Tweet is quotes from your reviews and re-tweets from people who think you're ace, you're a self centred dick. Twitter is about much more than that and you're constant going on about how great everyone thinks you are is simply pathetic.
Also, I refuse to believe that self centred self promotion of this sort actually increases sales.
So while self promotion might not make you an actual monster, it does make you look foolish in the eyes of others. Clearly moderation is the key.
If you have a book to sell, or indeed a business to advertise, you'll get a lot more out of Twitter by also engaging with your followers. Tell them about your day, ask them questions, answer their questions, link to things they might find interesting or fun. But don't just go on and on about yourself and how great other people think you are.
However…
If you follow someone who does nothing but self promote all day every day, and you then spend your time complaining about how those people are doing Twitter wrong, YOU'RE A DICK TOO!
What is wrong with you? Why would you follow people you don't like and then spend your time complaining about them? Are you a fuckwit? If you find the people you're following that annoying, you can simply unfollow. I've done it a bunch of times. It's easy.
You want to know the secret to Twitter? The secret method to having fun while not being annoying or getting annoyed? It's easy…
STOP BEING A DICK!
Send to Kindle