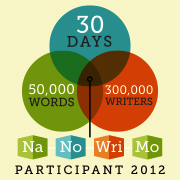 Yes, it's that time of year when the bitching begins. When assorted random whingers start bitching and moaning about NaNoWriMo and how it encourages people to think they can write. How it results in a bombardment of badly written drafts being sent to agents from overenthusiastic wannabes and how everyone gets all self congratulatory for doing something that a real writer should be doing anyway.
Whinge, moan, whine, bollocks.
NaNoWriMo is fun and the people who do it are having fun. If you don't like it, tough shit. You're certainly not going to stop me from killing even more monkeys and assorted civilians than ever before with nothing more than the power of my mind. It's just too much fun to pass up.
But enough about the naysayers, or miserable wankers, as I like to call them. This post is all about the great plan of action I came up with to help me get through this year's NaNo.
I've been working on a story for a few months, but I wanted to put in some real work to get that plot just right before I start writing. I felt that NaNoWriMo wouldn't be the right way to do that story justice. So I decided instead that I would go back to my first NaNo story, Monkeygeddon.
I'd planned all sorts of stuff for that story, including several sequels, so writing Monkeygeddon 2 seemed like the way forward.
I say "planned", what I actually mean is, I had a couple of ideas. My idea for Monkeygeddon 2 involved my hero going back into Monkey Land, for one reason or another, with a bunch of marines. But that's as much as I had. What I needed was to plot it out properly.
I started over a month ago.
I say "started", what I mean is, I had a really hard think. Or nap. I forget which, it was all so… so… thingy. Anyway, a few days passed and I wasn't really getting anywhere.
I say "a few days", what I mean is a month passed and I hadn't managed to do anything resembling a plan or a plot. So yesterday, I made a start and today, the day before NaNoWriMo 2012 is due to start, I have half a side of A4 written out.
It doesn't sound like much, because it isn't much. But I'm looking on the bright side. I have enough plot to get me through the first couple of chapters. The way I see it, I can be writing chapter one while planning chapter 3. As long as I keep that up, I'll be able to plan 2 chapters ahead of what I'm actually writing and can stay ahead of the game.
Should be easy.
And if it isn't? Who cares? This is NaNoWriMo and it's all about the fun. Writing 50,000 words is easier than it sounds (famous last words) if you remember to not edit as you go. Seriously, don't do it. And, no, that's not as easy as it sounds. But at the end of November, even if you don't have a workable novel,  you'll have learned that you can write without editing and can easily bash out a first draft novel in quick time.
Keep reminding yourself that this gets easier with practice and is a skill worth learning. Don't believe me? The great pulp writer, Walter Gibson, used to write two 60,000 word novels per month for three years.
Walter wrote like a maniac for money, you're doing it for fun. So don't stress over it. Pay no attention to the naysayers, the whiners, the whingers. You know, the miserable wankers. Keep writing and have fun doing it. And if it does get a bit much for you, get on Twitter or Facebook or the NaNoWriMo forums. There are thousands of us taking part and I guarantee, you won't be the only one looking for a shoulder and a kind word.
Now, go NaNo!