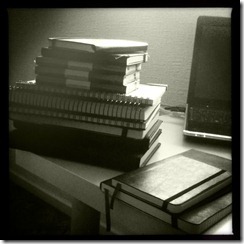 I believe it's been pretty well documented that I bloody love a nice bit of stationery. Who doesn't?I have many pens, lots of pencils, a variety of inks and a vastness of notebooks. And I know I'm not the only one, especially when it comes to notebooks.
I love a nice softback Moleskine, me. I have several in all sizes and I use a different one for each new project that I want to work on. I know some of you do the same thing and some of you will use your notepad as a common place book, as they used to be called, a journal of ideas and things to think about and consider for future writing projects. I have one of those too, it's an extra large Moleskine and is used for ideas that need more work before they get a Moleskine of their own. I also use it to collect character names, story titles, bits of conversation, plots, openings, character portraits (the written kind) and, well, you get the idea.
But I have a problem. My beloved Moleskines are so pretty that I can't bring myself to ruin them by filling them with crap. So when I have an idea, I think long and hard before committing it to paper. Sometimes, I'll decide that what I've thought of isn't worthy and it won't get written down. A few weeks later, I'll have the same idea but can't remember exactly what I thought of it last time because I didn't put it in the book. I then spend another few weeks feeling very confused and wishing I had written the damn thing down.
It's not just Moleskines either. I've a bunch of pretty notebooks and journals that I've had for years and still can't bring myself to write in. Is it a waste of money? Possibly, but I do like looking at them and they feel really nice with their padded and textured covers. But they're meant to be used. They want to be used. I know this.
Enter the scratch pad.
My scratch pad acts as a buffer between my idiot brain and my lovely, lovely Moleskine. My current scratch pad is a £3.28 Pukka A4 refill pad. It's 400 pages of 80gsm paper, which is great for whatever kind of pen or pencil I decide to use. It's pages are ruled and hole punched and they are glued down one edge for easy removal. There's nothing fancy about it. And that's why it's so perfect.
I keep it on my desk and use it throughout the day for notes, reminders and doodles. But I also use it to work out story ideas, character names, story titles, plots, bits of conversations in fact everything that I might want put in my common place book. The difference is, I don't have to worry about filling the scratch pad with crap because that's what it's for. And when the top page is full, it gets torn off and thrown away.
But before it gets thrown away, I review what's on it. Stuff for work that needs to be kept is transferred to a work notebook. Fiction stuff is mulled over and if it's clearly rubbish, it gets binned. If it's something good that I can work on (or a name or title I particularly like) it get's rewritten and tidied up and transferred to the common place book. If I'm undecided, then the page can be filed for further review at a later date.
By using my scratch pad as a buffer I no longer have to worry. When I'm dead and my loyal fans are looking though my notes (yes they will) I can rot, happy in the knowledge that they won't find anything really awful hidden in the pages of a Moleskine. My common place book only contains the ideas that I'm really happy with and that I'm sure would be worth working on. All the crap is filtered out by the buffer, everyone's happy.
Of course, the best thing about having a scratch pad is that it's the perfect excuse to go stationery shopping. I expect I'll see you there.